Trending promotional business products have become a staple for marketers to engage with their prospects and build long-term relationships. Here are the top fifty trending promotional items in 2023 that your brand should consider for a lasting customer relationship.
We've put together a promotional items list featuring some of our favorite creative promotional products ideas.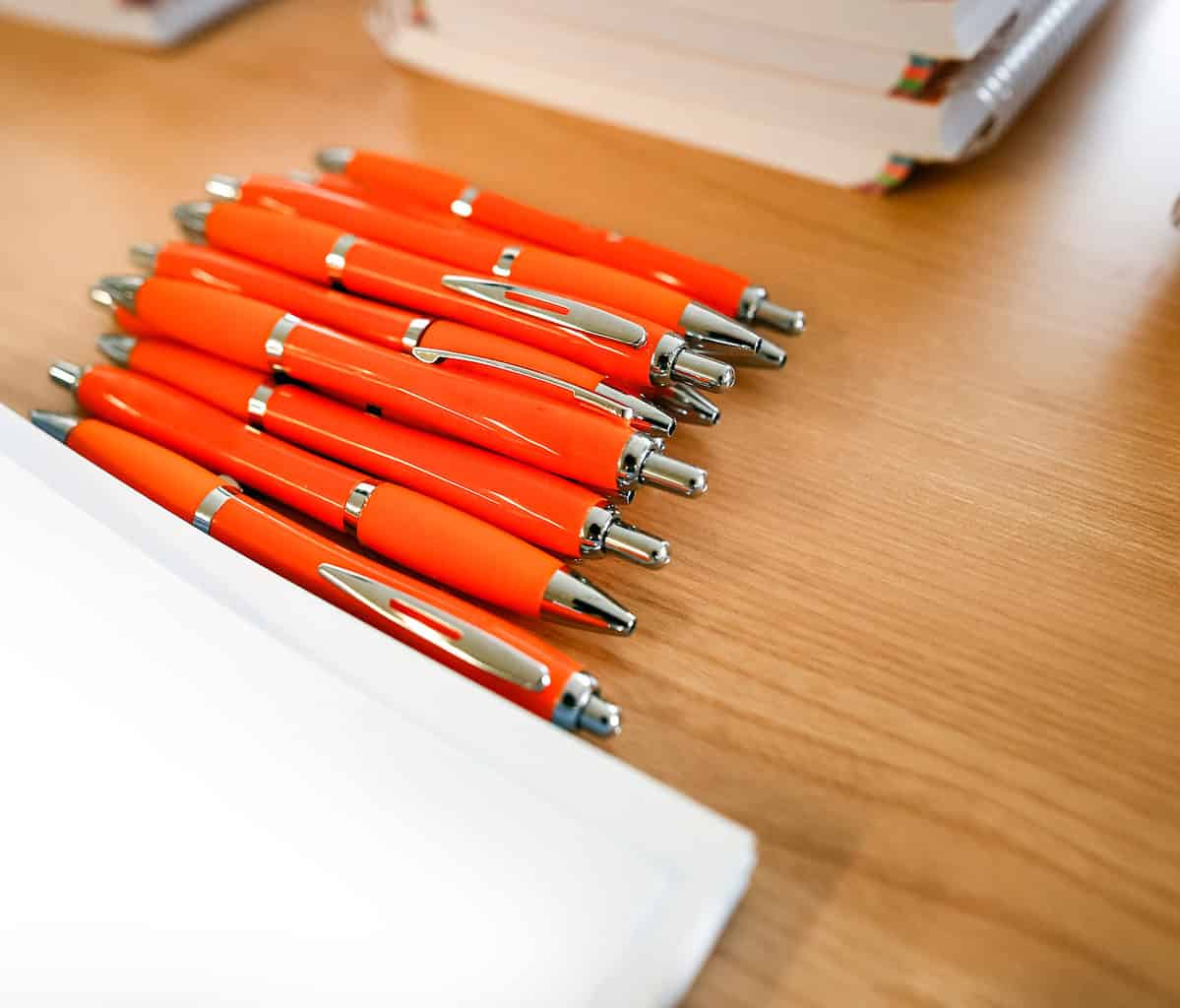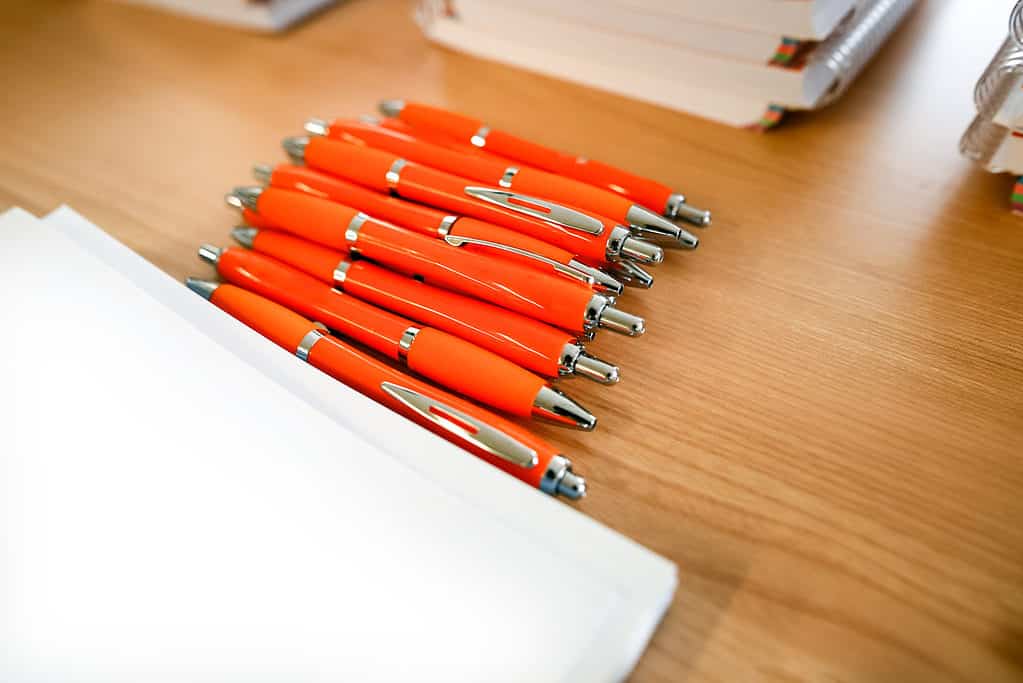 T-shirts
T-shirts have become one of the top trending promotional items in 2023 for businesses seeking to make an impression on their customers and prospects. They promote brand awareness and generate revenue from the demand for the shirts. The design can be your company name, logo, or the theme of your campaign.
Colored Pens
Colored pens are great tools to engage consumers and help market new products. You can use pens at trade shows, stores, conferences, or places you would like to make an impression on your audience.
Water Bottles
The perfect combination of an effective and affordable marketing tool. Water bottles are an easy way to bring a touch of unique, customized, and branded marketing to your company.
Hoodies
Hoodies are a marketing strategy that fosters customer loyalty when they have a premium design and print tailored to your business. They allow consumers to express their affection for your business.
Lunchbox
Lunchboxes are reusable, regularly used, feature a broad flat surface for marking, and have a longer useful life. Many people prefer carrying packed lunches, which means that the lunchboxes get seen by most people, pushing your brand and creating loyalty.
Customized Promotional Hand Sanitizers
When businesses gift branded hand sanitizers, customers get a clear message of how they are promoting health and safety, which creates customer loyalty.
Mouse Pads
Mousepads are a great form of branding for businesses. You can customize them with graphics and images to help your brand stand out.
Hats
Custom hats with excellent patches draw attention to people. Most hats come in various colors and styles, allowing you to convey your identity.
Calendars
Calendars are good business giveaways. People use calendars to set schedules and organize their activities. Promote your brand using mascots or celebrities throughout the calendar.
Universal Serial Bus
USB flash drives are a fantastic method to promote your business. At trade exhibitions or business gatherings, you may ensure that potential clients will see your brand by giving them away.
Photo Frames
Photo frames are a symbol of love, life, and memories. The hearts of people who look at pictures get affected. These pictures offer an opportunity to create brand awareness by invoking beautiful thoughts in the audience.
Umbrellas
People acknowledge the importance of protecting themselves from bad weather. Customized umbrellas with your business logo create brand awareness, develop a sense of belonging, and achieve credibility for a brand.
Flashlight
Flashlights are a great way to show your logo and branding in an affordable, eco-friendly way. They are useful for emergency purposes and are sure to get a positive response from your customers and prospects.
Chocolate Bar
Chocolate bars are a great way to show appreciation for your clients. They are a thoughtful, considerate gift and are sure to put a smile on their face.
Air Freshener
Air fresheners are a great, cost-effective way to keep your customers' environment healthy. They can also be branded with your logo and company name, further promoting your status as a trusted business partner.
Sweets
Sweets act as complimentary items. They put a smile on customers or people who visit a business or organization, creating a sense of appreciation for the company.
Figurines
Figurines are a great way to add a little flair and creativity to your business. They are a great form of branding because they can easily fit various purposes and locations. You can use these mini mascots to promote your business and brand, often in the form of a desk or tabletop accessory for customer interaction.
Dish Towels
Dish towels are a great way to communicate your company brand to prospects, customers, and employees. They are helpful and functional, which will appeal to your customers' needs.
Notebooks
A source of continuous exposure to your audience is notebooks. Your business name or logo printed on the cove creates brand recognition for your company.
Lanyards
Lanyards make customers of an enterprise feel a sense of belonging. They enable people to identify with an organization, and people moving around with them promote brand awareness.
Bicycle Reflectors
The employment of bicycle reflectors by businesses in the campaign to promote awareness emerges as a show of gratitude to the customers while spreading the necessary message to consumers worldwide.
Drink Koozies
Drink koozies catch the attention of many people. They create brand awareness and brand loyalty through outward expression.
Cufflinks
Wearing cufflinks makes a statement about your enterprise by creating awareness among your customers and strengthening your brand presence. It is an excellent addition to any attire, especially those in business or organizations.
Key Chains
Key chains are small rings of metal to which several keys can be attached. It fosters an experience of belonging and acceptance, promoting an organization's customer loyalty.
Bookmarks
Bookmarks are small book-shaped pieces of paper that can hold a business card or amount of paper with the name of a business. It is an excellent way to cultivate customer and brand relationships.
Stress Balls
Stress balls are essential in relieving stress and anxiety. It helps people who are feeling anxious and stressed. Stress balls are a great gift for customers, clients, and prospects.
Car Stickers
Car stickers create brand awareness because many people see vehicles in public. It is a form of mass advertising.
Baked Goods
Baked goods, such as cookies and cakes, are gifts that people will love to have. It is a way of attracting new customers and promoting an organization's brand awareness by showing how much the business cares about its customers.
Portable Speakers
Portable speakers are used by those who want to bring music with them wherever they go. They are a lucrative way to create brand awareness when branded with your business details.
First Aid Kits
People use first aid kits in case of health emergencies. The kits create brand awareness and customer loyalty by showing the organization's concern for its customers' good health.
Backpacks
A backpack gets used for school, sports, and traveling purposes. Custom backpacks are a way of expressing individuality and building brand recognition for a business.
Sandals
Sandals are an excellent way for clients to wear your brand on their feet. It's comfortable, easy to clean, and gets your business some attention as your clients walk around town.
Minimalist Zipper Pouch
A minimalist zipper pouch is a single-compartment bag with no clips or loops on the interior, making it more appealing to women, young people, and college students. It encourages brand campaigns through the outward expression of your company's values.
Welcome Letter
Nothing makes a consumer happier than a genuine welcome letter that makes them feel important. The letters generate enthusiasm, making promoting loyalty appealing.
Wireless Earbuds
Gifting branded wireless earbuds to your consumers will show appreciation to them, promoting brand awareness and loyalty among them.
Branded Sunglasses
Branded eyewear is a big trend in the fast-paced world of marketing. You can use your company's logo on sunglasses to make a lasting impression on your customers and prospects.
Pom Poms
Organizations can promote loyalty by using pom poms as their promotional products during sporting and community events. Colorful branded pom poms are very conspicuous and spread a company's awareness.
Blankets
Blankets are great for keeping your customers warm on cold winter days. They come in various sizes, colors, patterns, and styles and are a way to show off your business brand.
Mugs
Mugs create a warm feeling and a sense of individuality, especially when gifted to clients.
Lamps
Lamps are a great way to promote your business. You can put a logo and slogan on the lampshade and base, ensuring your brand is constantly in view.
Facemasks
Face masks are a great way to offer your customers an easy way to protect themselves. You can create custom face masks to fit your company's needs and market your enterprise.
Beanie Hats
Beanie hats are tiny hats covering the ears or much of the head. They are popular among many people and are good promotional products to market your brand.
Laptop or Tablet Case       
Laptop cases can be engraved with company logos to spread customer awareness. Moreover, when given as gifts to clients, they create loyalty to the business or organization.
Coasters
Coasters are a great way to promote your brand uniquely while helping customers avoid water marks on tables. You can customize coasters with your logo and company name.
Bottle Openers
Branded bottle openers are popular budget-friendly products. They are a fun way of creating loyalty and awareness by leaving a lasting impression on customers.
Bliss Plants
Plants promote a sense of serenity. Gifting such products to customers not only retains them but it shows a sense of appreciation.
Laptop Stickers
Stickers are a fun and easy way to promote brand awareness. They are conspicuous enough and designed in various shapes and sizes to suit all ages and genders.
Drinking Glass
Drinking glasses are an easy way to advertise your business and brand. You can also put a logo on the drinking glass and make it a fun, unique way to interact with customers and prospects.
Buckets
Giving buckets is a great way to motivate customers to purchase your products. It is common for soap manufacturing enterprises to gift them as an after-sales service.
Scarfs
Custom neck scarves help keep your customers warm as they identify with the company logo or message. They make fantastic giveaways and appreciation for employees or customers.
Wrapping Up Trending Promotional Business Products
Companies must keep up with the times to thrive in the modern business environment. Giving one of these trending promotional items in 2023 is a necessary part of company activities. You must recognize corporate customers as they are highly potential and valuable.