Opening a franchise is an exciting opportunity to become an entrepreneur while benefiting from the support of a successful company. With Domino's being a major player in the pizza restaurant market, becoming a Domino's franchisee can be a smart career move.
Let's take a closer look at what it takes to become a franchisee with Domino's and how much you can expect to pay for the Domino's franchise cost.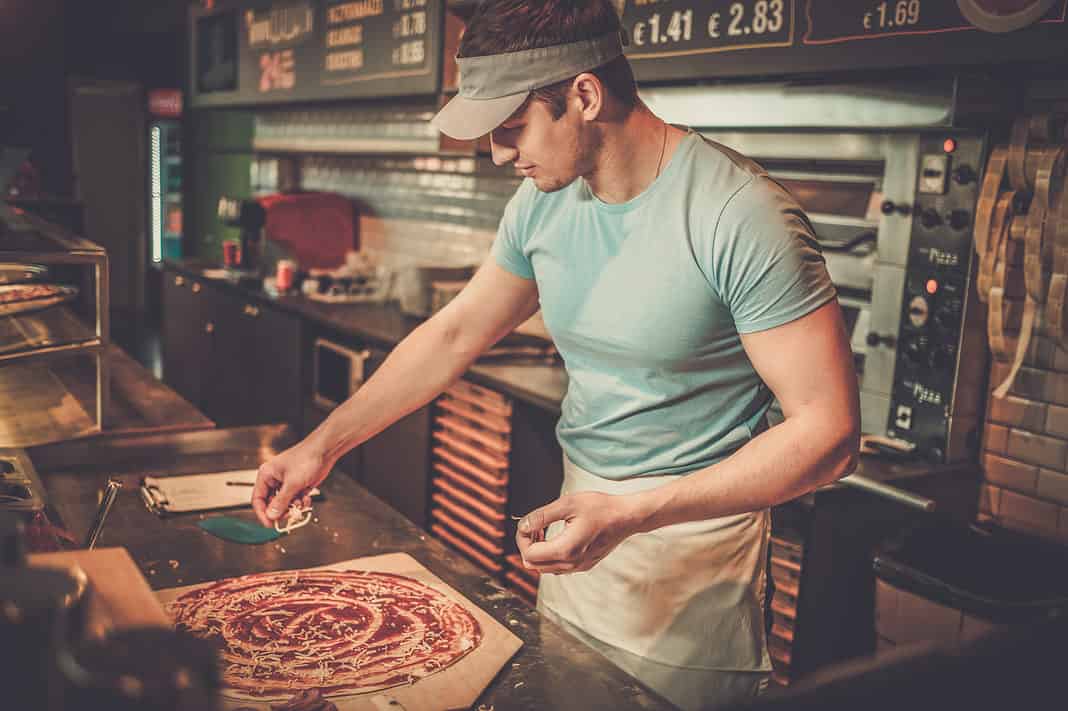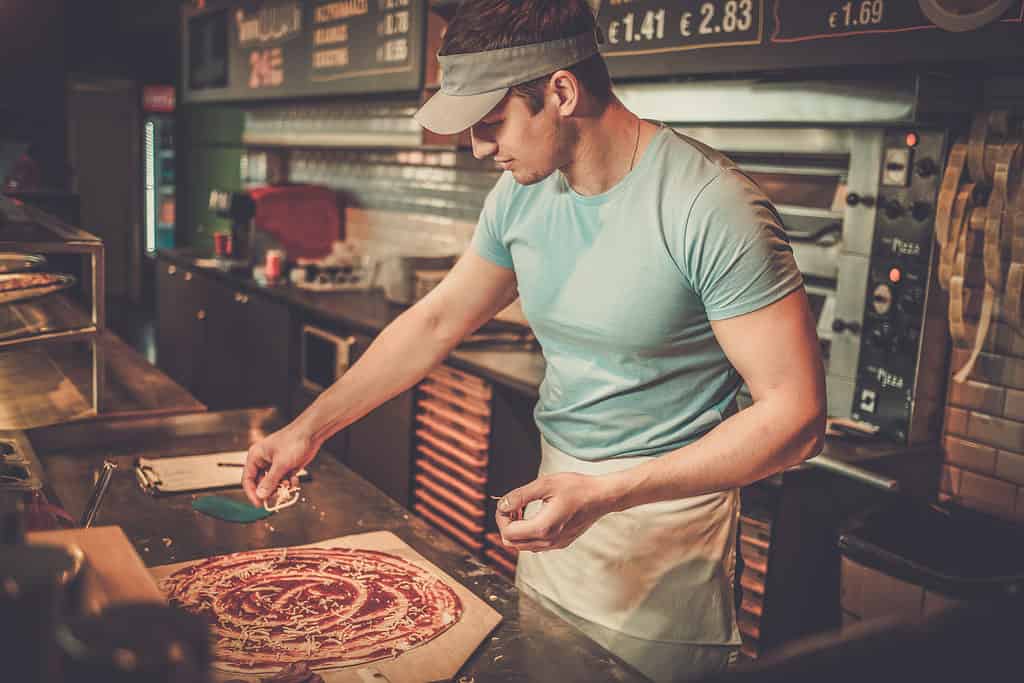 About Domino's and the Pizza Market
Domino's was originally a small pizza restaurant founded in Ypsilanti, MI, in the 1960s by brothers Tom and James Monaghan. The initial restaurant quickly became a success, and the brothers operating it opened a total of three stores. The three dots on Domino's logo actually represent the three original locations.
The franchise grew quickly and now has over 6,500 locations in the U.S. and a presence in 85 countries.
The pizza giant sells one million pies a day. It's a significant player in the pizza restaurant industry with $55,000 billion in annual revenues. Experts predict that the pizza restaurant market will grow at a rate of 2.7%, making franchising with Domino's an advantageous career choice.
Why Become a Domino's Franchisee?
Domino's is a highly recognizable chain with quality products. The company took a strategic approach to become more competitive in 2010 with new recipes emphasizing sauce and crust flavor.
Pricing is another area where the pizza chain stands out. Domino's recently announced a slight price increase, but the chain has a long-standing value menu that is cheaper than what competitors offer. So it's no surprise Domino's controls 17% of the pizza restaurant market.
Plus, the company isn't afraid to innovate. Domino's understands the importance of offering a great customer experience and uses technology and loyalty programs to keep customers engaged.
Domino's offers additional benefits for franchisees:
Franchise owners have access to the tools they need to succeed with training and mentorship programs.
A majority of owners were initially store managers. This model means that owners have a thorough understanding of how Domino's operates.
Working for Domino's before becoming a franchise owner gives you access to perks like training opportunities and a tuition reimbursement program so you can work your way up to owning a business.
The Black Franchisee Opportunity Fund is a program that supports business ownership among Black entrepreneurs with a $50,000 grant.
Domino's also makes franchise ownership more accessible to veterans by waiving the initial Domino's franchise cost.
Domino's franchise ownership has one major downside. The chain doesn't offer territory protection, which means it could approve additional stores in your area in the future. As a result, you might have to compete with other nearby Domino's locations on top of other local businesses as the number of pizza restaurants keeps increasing across the country.
Domino's Franchise Cost
The Domino's franchise cost is somewhere between $10,000 and $25,000. The number varies from one source to another, and it's possible that Domino's charges a different initial franchising fee based on your location.
Plus, the type of store you want to open could affect the franchise cost. You can open a traditional Domino's location, a non-traditional store that only offers carry-outs or a transitional store in an area with a limited customer base.
The initial franchise fee is only a fraction of what you'll have to pay to open a Domino's store:
You'll have to secure a location that meets Domino's requirements. Whether you're building a store from scratch, making improvements to an existing restaurant, or leasing a building, your cost could be anywhere from $5,000 to $300,000.
You'll need to purchase pizza ovens and other specialized equipment from Domino's. Equipment should cost $60,000 to $100,000. Due to the limited menu size, equipment isn't expensive compared to the cost of a traditional restaurant kitchen.
Plan on spending $3,000 to $5,000 on supplies before you open.
You'll also have to account for costs linked to hiring and training employees, as well as marketing and signage expenses.
On the low end, you can open a Domino's store with an initial investment of $100,000, including the franchise fee. On the high end, the total cost can exceed $500,000 if you purchase a location instead of leasing one.
The good news is that commercial real estate prices are slowing down, but the cost of buying or leasing a building can remain high, especially in busy urban areas.
You should also know that Domino's doesn't finance franchisees. Instead, you'll have to go through a third-party lender to get a business loan for your project. The lending fees and interest rates can vary depending on the lender you work with.
Domino's Franchise Requirements
Besides paying the Domino's franchise cost and financing the other expenses, you'll have a few requirements to meet:
More than 90% of franchise owners were Domino's employees. There is a strong preference for current franchise owners and store managers in the franchise application process. You'll need to have at least one year of experience as a general manager or supervisor.
Domino's has a Franchise Management School you'll have to complete to qualify as a franchise candidate. You might have to complete additional training.
Your net worth should be somewhere between $100,000 and $250,000. This amount can vary depending on where you want to open a franchise and how much the project will cost.
You'll also need to have between $75,000 and $100,000 in liquid capital.
Ongoing Costs for Domino's Franchisees
As a Domino's franchisee, you'll have to pay 5.5% of your gross sales to the chain as an ongoing royalty fee.
Your franchise agreement will typically last ten years. You can renew it after ten years and pay the franchise fee again.
You'll also have to spend money on various things pizza restaurants need. Unfortunately, Domino's will not help you with these ongoing costs:
You'll have to keep buying supplies to make pizzas and other menu items. You won't be able to shop around and compare prices since you'll have to get ingredients, pizza boxes, and other supplies from the chain.
There are ongoing costs linked to hiring and training. These costs can be high due to the turnover that exists in the fast-food industry. Offering competitive wages is crucial to retaining employees and ensuring a positive customer experience.
Domino's has nationwide marketing campaigns, but stores often spend money on local marketing efforts.
Insurance is another area where you'll incur monthly costs. Insurance for delivery drivers can be expensive.
You'll also have to pay utilities for the restaurants.
You'll have a tax bill with payroll taxes, property taxes, sales taxes, and more.
If you purchased a brick-and-mortar location, you'll have a monthly payment to make on this asset. If you're leasing, you'll also have a recurring monthly expense with the rent.
As a restaurant owner, you can expect ongoing expenses linked to maintaining or replacing the equipment and making minor repairs to your building.
How Much Can You Expect To Earn as a Domino's Franchise Owner?
On average, Domino's franchise owners earn between $50,000 and $200,000. Several factors can affect your revenues.
Pricing can vary slightly from one store to another. You can set the price of some menu items, adjust delivery charges, and choose your delivery area. However, you won't have full freedom over pricing, and you'll have to offer the deals that Domino's advertises nationwide.
Your sales volume is one of the main factors that determines what you can earn. Domino's is a highly recognizable chain and extremely successful, but factors like foot traffic or your delivery area can affect your sales volume.
Competition is another important factor. Choosing a location where you won't be in direct competition with another Domino's store or other pizza restaurants is important.
Labor costs can also affect your revenues. The cost of labor can vary depending on your state or city. For instance, the minimum wage ranges from $7.25 in some states to $16 in Washington, D.C.
Your lease or business loan will also significantly impact what you earn. Other factors, such as a shortage of delivery drivers and the rising cost of food ingredients, can make earnings difficult to predict.
It's also common for Domino's franchise owners to re-invest a significant portion of what they earn into opening additional franchise locations. The pizza chain tends to approve franchise applications more easily if you already have a successful store.
More information and links
Domino's franchise cost in India and information can be found at Jubilant FoodWorks.
Domino's franchise contact number and information can be found here.
Domino's Pizza franchise owners list can be found through the FDD docs when finding out more information.
Wrap Up
Becoming a Domino's franchisee is a significant investment, but a Domino's franchise costs less compared to other companies. Plus, Domino's has a strong presence in the pizza restaurant market, and generating sales won't be an issue as long you find a good location.
However, Domino's prioritizes current store managers and existing franchise owners for its franchising program. If you think that the pizza chain could be a good fit for you, you should start looking into applying for a manager position so you can gain some experience with this chain and get started on your journey to owning a franchise!