If you or a woman in your life is striving for independence, you need a brilliant business idea. There are so many ways to tap into your feminine energy and achieve financial security. You can also find a lot of meaning by working in your calling.
Below, read about more than 50 profitable business ideas for women. Read through them and find the right one for you.
Be aware that many businesses take time to become profitable. Especially if you need to build a customer base or reputation, be patient and keep investing in yourself.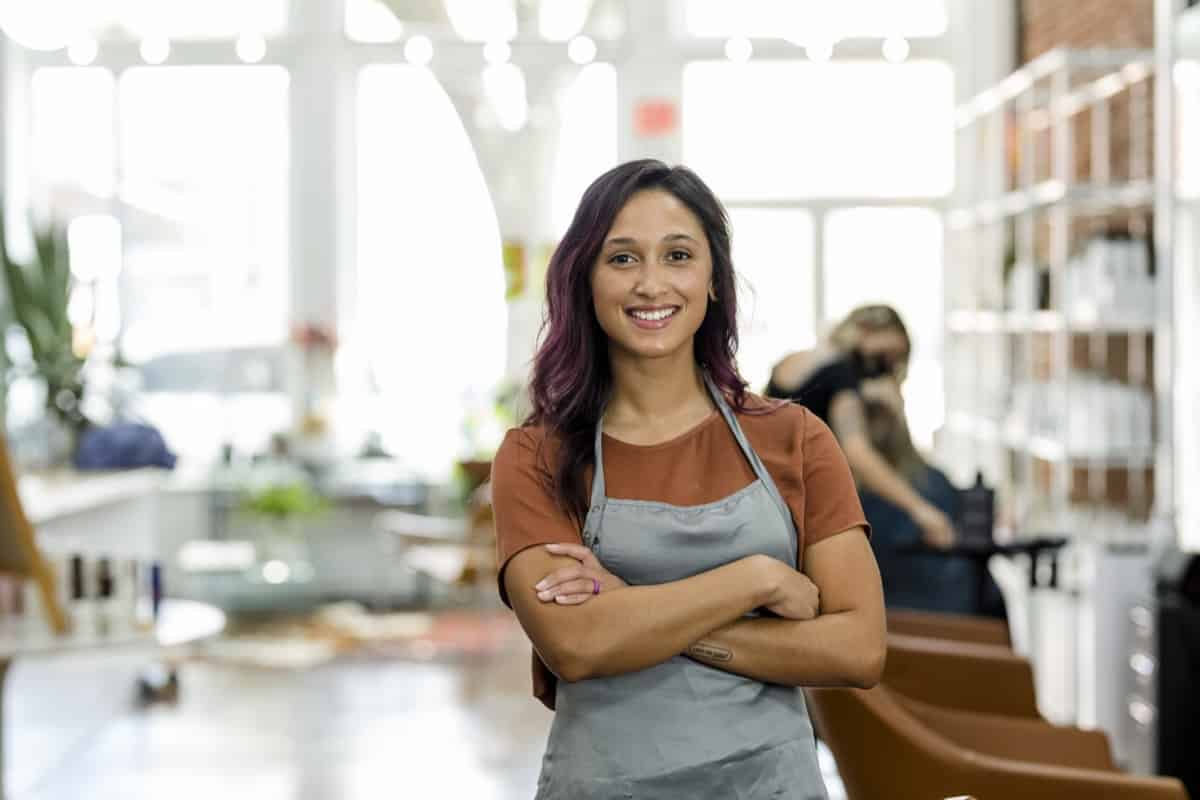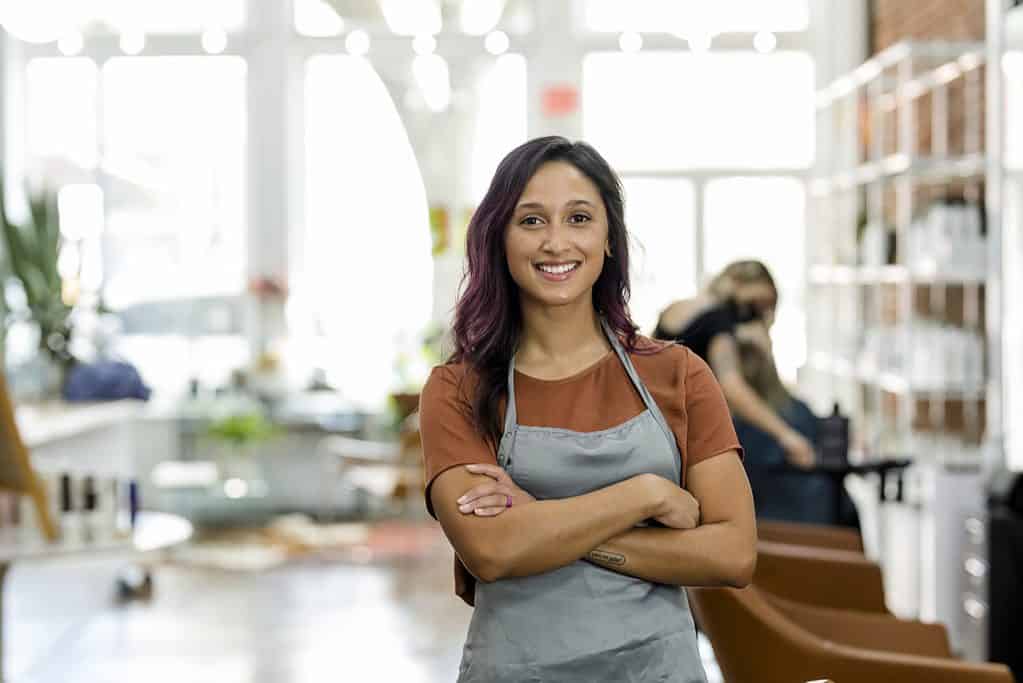 1. Become an Independent Contractor in What You Already Do
Leverage the skills you already honed in your career by striking out on your own. You don't have to open a business to work as a consultant or contractor in your field of expertise.
2. Open an Etsy Shop
Like to craft? Monetize your hobby by posting pictures of what you create. You can charge enough to cover your costs and make a little extra for yourself with a site like Etsy.
3. Personal Training
You'll have to earn a certificate to pursue this avenue, but it's a great way to help people and make money simultaneously. You can work with individual clients one-on-one or teach group fitness classes.
4. Life Coaching
If you like the idea of helping people overcome obstacles, then life coaching might be right for you. As a life coach, you can give clients a fresh, objective perspective on their lives, clarify their values and goals, and then go after them.
5. Pet Sitter or Walker
Taking care of animals has a lot of benefits besides monetary ones. You'll get more exercise, and scientists have shown that interactions with animals can boost your mental health. You can do it in your free time.
6. Blogging and Affiliate Marketing
If you have something to say, start a blog. It takes some work to build a following, but once you do, you can earn a lot of passive income with ads and affiliate links.
7. Open a Spa or Salon
Many women have a passion for making themselves feel and look their best. You can share that with others by opening a salon. You don't need to be a clinician yourself; just hire the right people.
8. Bookkeeping for Small Businesses
Have a knack for numbers? You can learn the basics of bookkeeping by taking an online class and then help out your friends and neighbors with side hustles of their own.
9. Rent What You Own
You might be surprised by how much of what you own has rental value. Many people think of home rentals first, but many other things–like vehicles, exercise equipment, camping and outdoor supplies, lawn equipment, and more–can also be rented for a profit.
10. Become a Doula, Midwife, or Lactation Specialist
Whether you had a positive birthing experience or not, many mothers choose to get training to help other women during this extraordinary time of life with pregnancy, delivery, and nursing.
11. Photography and Portraits
Especially if you already own a professional camera and have photo editing experience, you can take beautiful family portraits and earn a little extra money. Set up a shoot location in your home or yard, or meet people in their special place.
12. Consulting Work
One great place to start in this process is to ask yourself what you're good at, what you know, and who needs those skills and knowledge. Market yourself directly to them as an expert consultant.
13. Freelance Writing or Editing
You don't need to be a beautiful, poetic writer to produce content for websites, blogs, and others. Look for marketing companies that hire writers and editors.
14. Help People Plan Events
Event planning combines people skills, creativity, and organization skills. You also get the opportunity to help people realize their dreams for some of the most memorable days of their lives.
15. Personal Chef
Restaurant kitchens can be rough places, but you can still share your passion for creating beautiful meals by cooking for your friends and neighbors. Put out a weekly menu or offer to cater dinner parties.
16. Researcher
Sometimes, the abundance of information on the internet makes it harder to discern fact from fiction. When people want good information–whether in science, genealogy, or something else–they can be willing to pay for it. Again, tap into your background and what you already know.
17. Help Kids Get Into the Right College
The world of college admissions is confusing and stressful. You can become an expert to help coach families through this process.
18. Translation or Transcription Services
If you speak a foreign language or have excellent audible comprehension, translation or transcription might be an easy business to start.
19. Social Media Influencer
This one takes some time and admittedly may not be possible for everyone. But you don't need millions of followers to be an influencer, especially if you have a niche. Tap into online communities with interests similar to your own.
20. Tutoring
Your strength is someone else's space for improvement, and you can help kids struggling in school. Utilize message boards to post your resume and availability.
21. Antiques Dealer or Reseller
Especially if you're a collector or expert in a particular type of material good, you can make a great deal of money buying and selling to other fans. Utilize sites like eBay and local message boards.
22. SEO Consultant and Expert
SEO, or search engine optimization, is key to online marketing. As crucial as it is, it's not hard to learn, and you can lend your skills to small businesses, bloggers, and others. It's a great way to make money online from anywhere.
23. Resume Writing
If you've ever been on the job market, you know your resume's importance. Because it's so critical, people need help crafting theirs perfectly. It's a particular type of writing you can easily master and then turn into a business.
24. Start a Cleaning Business
Listening to music or a podcast while they clean is relaxing for some people. If that's you, you can easily find clients to clean for, perhaps even among your friends and neighbors. It's a great way to make money quickly.
25. Become a Massage Therapist or Other Wellness Expert
Turn a passion for helping people into business ideas for women. There are many areas of the wellness industry. Learn about using oils and aromatherapy, crystals, massage therapy, esthetics, or other areas, and then work independently.
26. Travel Agent or Vacation Planner
If you enjoy daydreaming about exotic places around the world, turn that pastime into a business by helping other people plan their next trip. Travel agents have adapted online planning tools over the past few decades, and it's more exciting than ever.
27. Amazon FBA Business
FBA stands for "fulfilled by Amazon." While there's a learning curve, you can earn a decent income with an Amazon FBA business.
28. Grant Writer or Fundraiser
Like resume writing, grant applications require particular skills. Not-for-profit agencies, schools, and other organizations need the help of experts to help them apply for grants and raise money. It's a beautiful way to give back while earning a living.
29. Website Design
With some simple training, you can learn the basics of website design on a platform like WordPress. Those skills are highly marketable.
30. Childcare
You don't have to open a home daycare to make money while caring for and loving kiddos. Welcome kids after school for a couple of hours or get a part-time gig in someone's home.
31. Cake Decorator or Pastry Chef
Everyone at parties "oohs" and "aah" over delicately decorated cakes and pastries. It's a terrific creative endeavor that you can monetize.
32. Delivery or Personal Shopping Services
From Instacart to Shipt, there are tons of ways that you can make money running other people's errands. The best part is that you can work on your own time with no commitments.
33. Ghostwriter
If you enjoy longer writing projects, consider ghostwriting. You'll work closely with someone who has a story to tell but needs help figuring out how to do it.
34. Graphic Design Services
People and other businesses need graphic designers for many reasons. You can design logos, help with marketing campaigns, and more. When you start your own business, you can work closely with just a few clients.
35. Handy-Person
If you're good at fixing things around your home, why not market those skills? You can help people with projects and even teach them basic skills. Just be sure you're not selling services that require licensure.
36. Flower Arranging
You don't have to open an entire florist shop to get into flower arranging. You can start making bouquets for people and then move on to bigger jobs. Set up a stand at your local farmer's market.
37. Make Custom Clothing
Do you ever see families or groups of friends walking around with matching custom shirts? You can be the person to make one. All you need is a good eye for design, some marketing savvy, and a vinyl machine.
38. App Developer
You can develop smartphone applications for businesses or other services if you have some code-writing knowledge. It can be something you do on a freelance basis or add it to your marketing skills.
39. Amateur Farmer
If you have space for some garden beds, a willingness to learn, and patience, you can become an amateur farmer. Or, build a coop and get some chickens. Either way, you can cut down on your grocery bill or sell your produce.
40. Open Your Own Boutique
Great business ideas for women often begin with their interests. Opening a shop where you can share your expertise is a great way to earn money and indulge your passion. You can also showcase your unique style.
41. Nutrition Coach
While you have to be careful not to market yourself as a certified nutritionist or dietician (unless you are one), you can share nutrition expertise with people trying to improve their health. If you stick to a particular diet–vegan, kosher, gluten-free–that can be an excellent niche to tap.
42. Interior Designer
If your house looks like it stepped out of the pages of a catalog, you have an exceptional talent that you should share with others. If you have special skills, like painting, hanging wallpaper, or laying flooring, that also helps.
43. Blog Creator
If you've ever started a blog of your own, you know it takes a lot of work. You must develop a brand and decide how your tone, content, and more will promote it. You can do that legwork for others and sell ready-to-launch blogs.
44. Dropshipping Services
It isn't glamorous, but dropshipping is a quick, easy way to make money.
45. Pet Grooming or Other Animal Services
There are many ways to offer services to animal owners. Grooming is just one way, and making your business mobile is a great way to make your services convenient.
46. Home Haircuts and More
Blame it on the pandemic, but it's clear that there's a market for in-home services for those of us who prefer to stay in our houses. You can offer a range of in-home services, including haircuts, massages, and more.
47. Alterations and Tailoring
Have a knack with a needle? You can hem pants, take in or let out dresses, or even sew clothes for people.
48. Carpentry or Custom Home Furnishings
Dreaming about gorgeous built-ins or custom cabinetry is one thing, but few people possess the skills to build it. If you do, that's a commercial service you can offer.
49. Art Teacher
Art is a tremendous hobby. Whether you took classes yourself or are self-taught, you can make some money helping others unleash their creative capabilities and find relief from stress.
50. Help Other Women
If you like helping people–being there for them throughout the day, providing a second opinion, assisting them with complex and day-to-day tasks–then consider a career as a personal assistant. You can find a job working closely with other women and achieve your own dream of independence along the way.