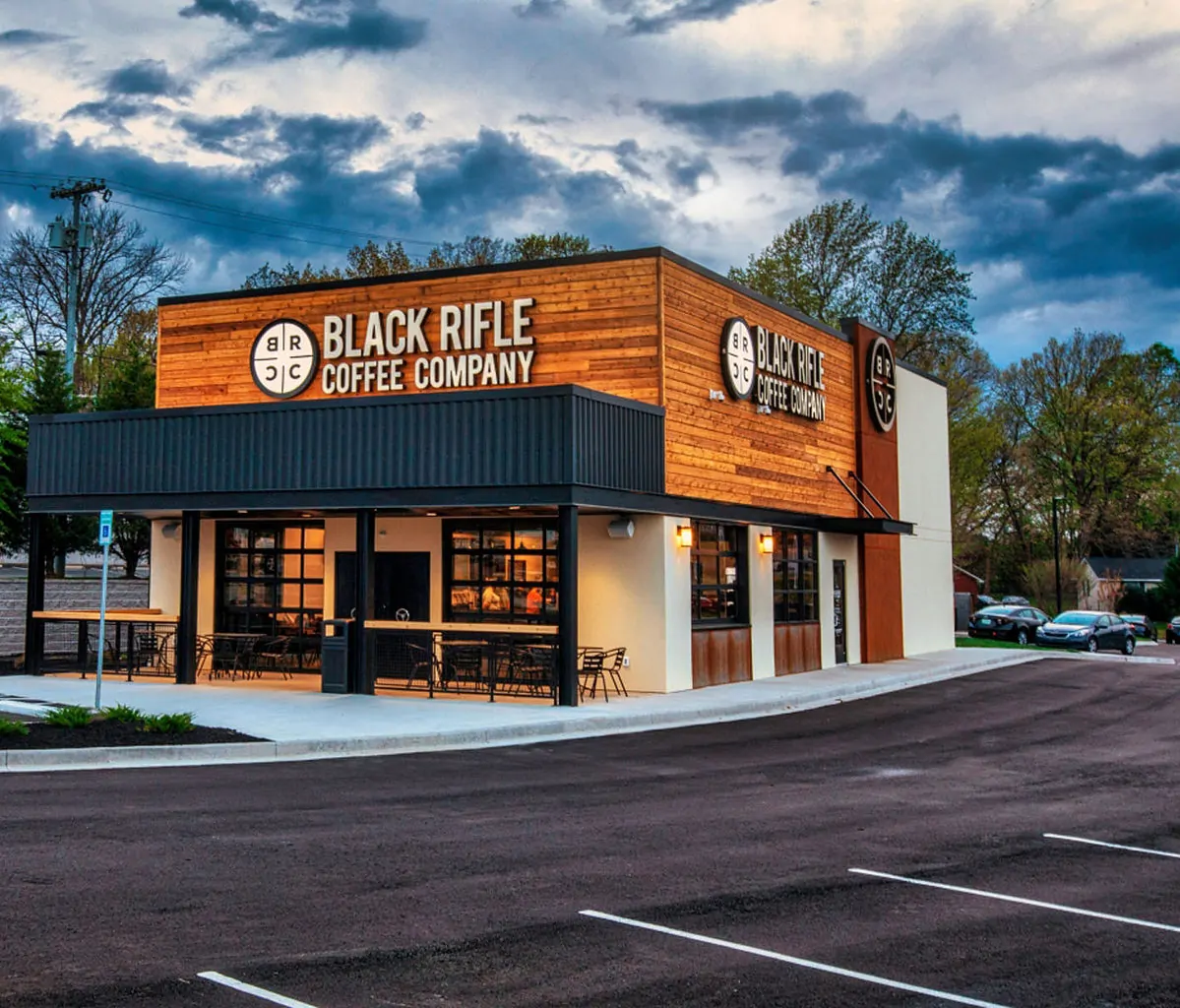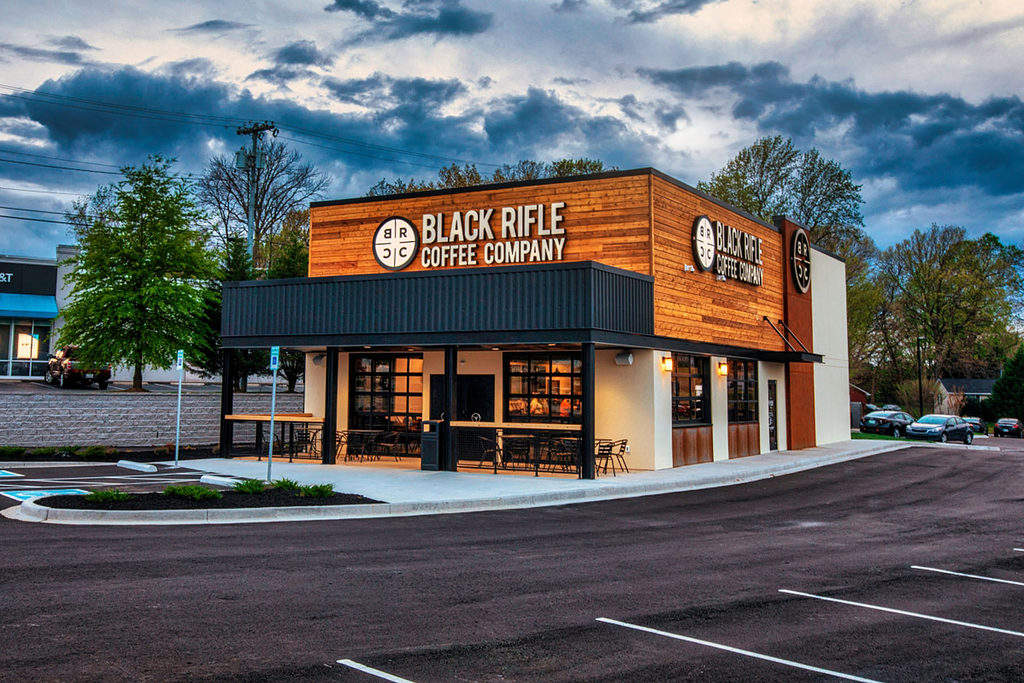 Black Rifle Coffee Company, or BRCC for short, aims to provide conservative-minded coffee drinkers with an alternative to Starbucks. With coffees like AK-47 Espresso and Silencer Smooth, it's easy to see that the company caters to gun lovers, but that's not all. BRCC is a veteran-owned company that hires vets and supports military families.
If that all sounds good to you, it might be time to consider investing in a Black Rifle Coffee franchise. Read on to learn everything you need to know, including what it takes, what you stand to make, and how to get started.
Black Rifle Coffee Company Facts
What do you get when a former Green Beret and former Army Ranger combine their efforts to roast and sell coffee? Just ask Evan Hafer and Mat Best, who founded Black Rifle Coffee Company in 2014 after extensive careers serving their country.
Hafer and Best chose to continue their lives of service by providing Americans with quality coffee. They also committed to hiring 10,000 Veterans to support service members transitioning into their next chapter.
The veteran-owned coffee company strives to keep costs reasonable for its customers while ensuring the coffee remains accessible. The most common purchasing options include online, direct-to-consumer via franchisees or dealers, and through subscriptions.
Black Rifle Coffee Company stores, or rather outposts as the organization calls them, operate full espresso bars in a bid to compete with other chains. Publicly, BRCC appears to be locked in a battle with premium coffee giant Starbucks, mostly over values.
The company has seen some controversy surrounding its conservative values and some colorful supporters, but the founders seem to take it in stride. Hafer frequently reiterates Black Rifle Coffee Company's values and commitment to Veterans. Additionally, despite his conservative leanings, Hafer denounced the right-wing extremists.
Black Rifle Coffee Company Products
This veteran-owned coffee company positioned itself as a lifestyle brand delivering premium coffee and high-quality, branded merchandise. The pro-gun theme carries through everything with a dual meaning, support for military and law enforcement as well as the 2nd amendment.
Consumers can purchase Black Rifle coffee as whole beans, pre-ground, or in K-cups. Look for blends with catchy names, like Freedom Fuel. Black Rifle Coffee Company also recently released some canned iced coffee in Espresso Cream or Espresso Mocha for a blend of flavor and caffeine.
Aside from delivering high-powered coffee beans to the public, BRCC sells apparel, gear, and accessories. Pick up apparel, mugs, and brewing systems curated by the founders to represent the brand.
If selling coffee products wasn't enough, BRCC crafted several media channels to reach its community and spread its message. Catch up with Black Rifle Coffee Company via the vlog, blog, YouTube channel, and podcast. In 2021, BRCC's news and lifestyle magazine, Coffee or Die, made it to print.
The BRCC Fund
Black Rifle Coffee Company remains committed to supporting the people who put their lives in harm's way every day. The company created the nonprofit BRCC Fund to further its public service initiatives, primarily supporting the military, first responders, and their families.
The company also initiated the "Buy a Bag, Give a Bag" campaign during the COVID-19 pandemic. This initiative donated thousands of bags of coffee and gear to medical workers and active-duty military personnel.
How Much Does It Cost To Start a Black Rifle Coffee Franchise?
Aside from headquarters in Salt Lake City, BRCC has 18 locations across the United States, with a goal of 78 stores before 2024. It's not easy to find information about how much the Black Rifle Coffee franchise costs and the website doesn't list specifics. That said, public records offer some insight. 
Starting a Black Rifle Coffee franchise will reportedly cost you between $1.12 million and $2.51 million to start.
To break those numbers down, BRCC reportedly requires at least $250,000 in liquid capital and an overall net worth of at least $500,000 as a baseline. Factor in additional marketing, royalty, and franchise fees, plus securing a brick-and-mortar location to reach the estimated number.
What Are the Requirements?
As noted, the company doesn't list franchise requirements, though some sources indicate that you need to have some experience in the food industry. Additionally, you likely need to uphold the company's moral and political beliefs with preference given to veterans.
BRCC does highlight the Dealer Program for independent retailers who want to sell their products. The company provides specific requirements to resell its coffee:
Commit to purchasing a BRCC display with a minimum initial purchase of $1000 and annual purchase of $5000
Possess a brick-and-mortar retail site.
Maintain standard hours of operation.
Must love America!
The Dealer program has additional restrictions noted on the website. You must agree to the restrictions when you apply to speak with a Black Rifle Coffee representative. Two key limitations include not being able to brew the coffee for free for clients and not selling it through an eCommerce store or your website.
Though these requirements and limitations cover BRCC dealers, it's likely that a black rifle coffee franchisee would have to comply with similar guidelines. You would need to speak with a company representative to discuss your options and get the exact parameters of a franchisee agreement.
BRCC Franchise Revenue and Profit
BRCC's focus on military veterans and delivering quality coffee led to steady growth over its first several years. However, Black Rifle Coffee Company found its stride in 2021 when it entered a merger with the special purpose acquisition company SilverBox Engaged Merger Corp.
The merger increased the available capital for the coffee company to more than $545 million. This expansion also made Black Rifle Coffee public and opened the door to entering chains like Walmart and Publix.
A key feature of the deal includes the company remaining as a for-profit entity with continued efforts through the associated charitable foundation. BRCC donated millions of dollars via shares to the foundation.
By March 2022, Black Rifle Coffee Company reached a market cap of over $734 million, landing a spot among the top coffee stocks.
The sharp increase from 2020 to the present supports a strong outlook for BRCC franchises. With the company continually adding new outposts and expanding offerings, it expects to gain $200 million over the next two years. Further, the brand's goal is to gain 80% of sales from outposts and wholesalers, making it a potentially lucrative venture.
Opening a Black Rifle Coffee Franchise: A Review
If you're considering a Black Rifle Coffee franchise, you need to consider several factors, including product quality and finances.
At first glance, the benefits outweigh the drawbacks because this company has a lot working in its favor. Make sure you take the time to mull everything over before committing to a franchise. You might want to consider testing the waters as a dealer before leaping into a full franchise.
Pros of Opening a Black Rifle Coffee Franchise
There's a lot to like about Black Rifle Coffee Company, including its chic physical coffee shops. Why not open a location so you can enjoy that delicious premium coffee every day? Here are some of the top reasons you should consider a franchise.
Positive Mission and Message
One of the biggest things that set Black Rifle Coffee Company apart is its mission and values. It feels good to help the people who keep us safe, from law enforcement on the streets to the active military members serving domestically and overseas.
In 2021, the company donated over $3 million to first responders and military units and gave over $1.2 million to charitable organizations. Plus, the brand supports and employs Veterans helping them transition from active duty to civilian life.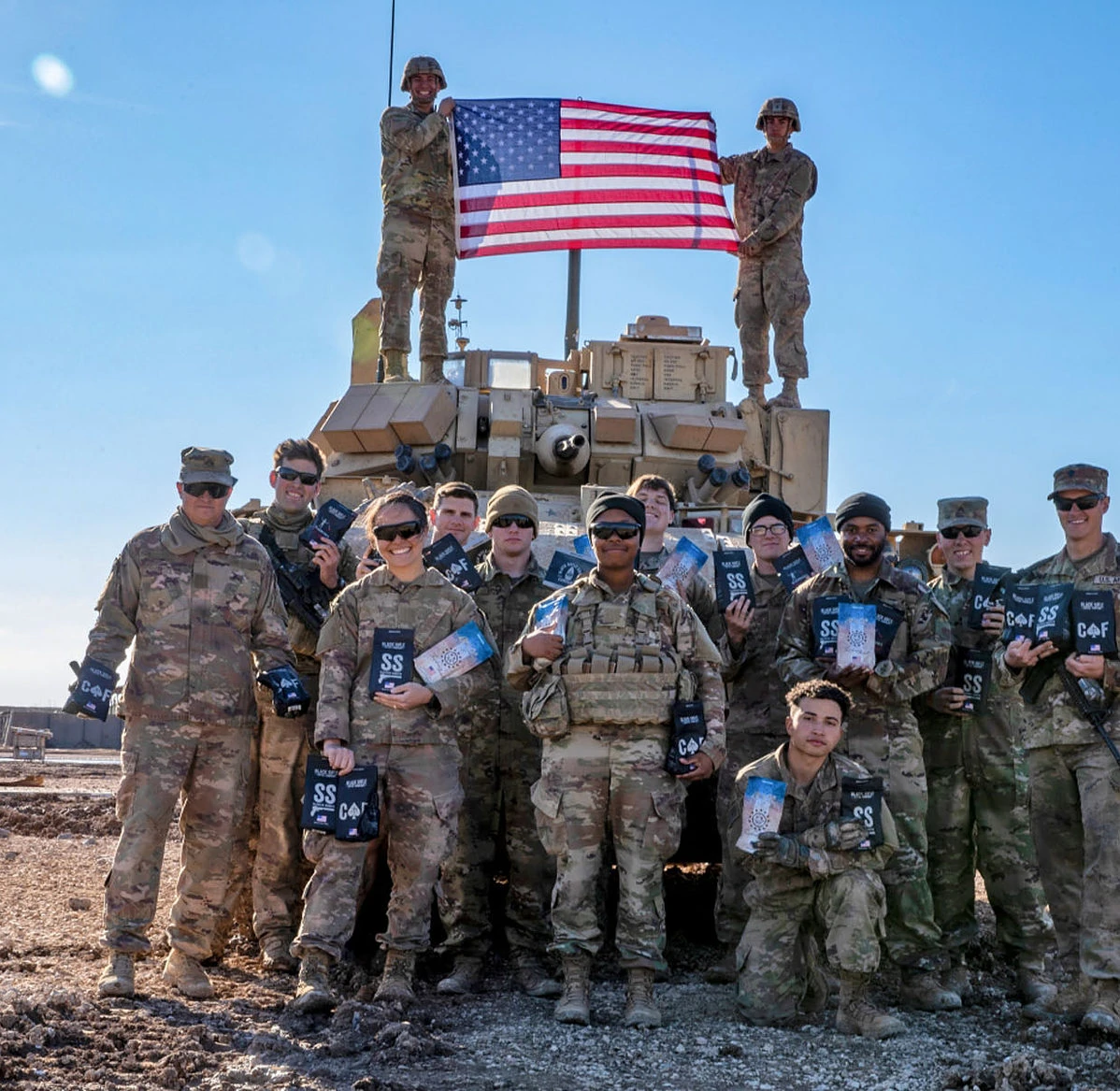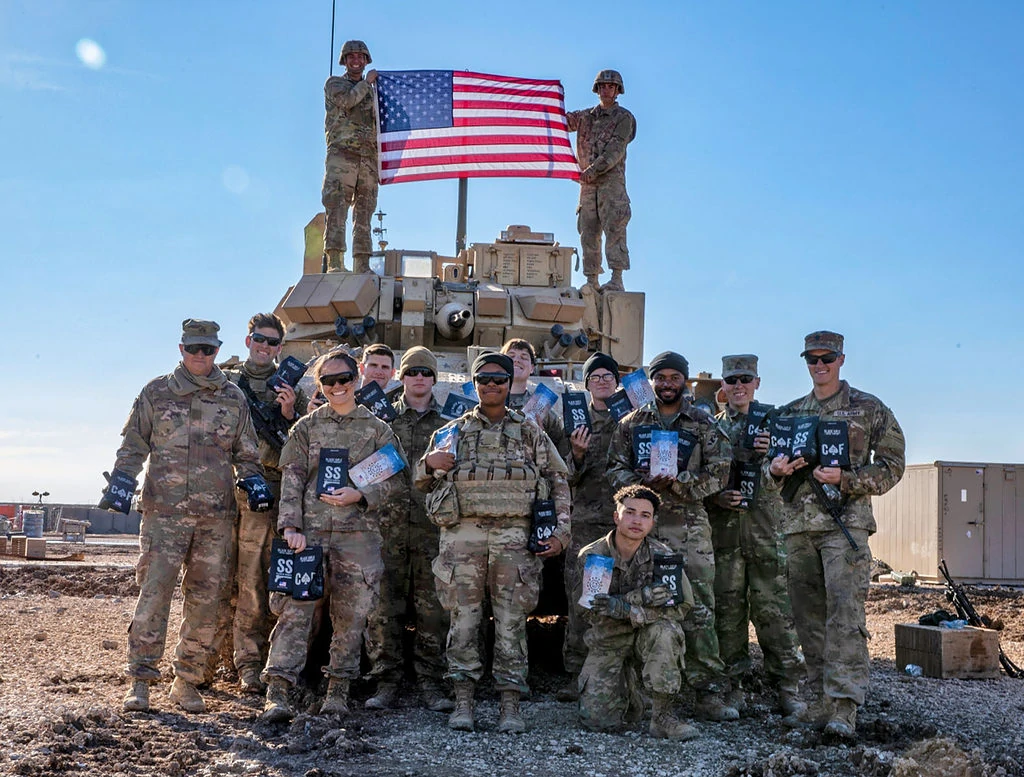 Product Quality
You can expect a quality cup of coffee from BRCC, thanks to the trend toward small batches and premium beans. The line offers a selection to meet varying tastes, including espresso and canned iced coffee. Plus, the merchandise fits with the brand aesthetic and features a wide range of options for people of all ages.
Finances
Obviously, you need to know that opening a franchise will eventually turn a profit, which is never a guarantee, but the outlook looks favorable for this brand. Based on the above financials and projections, you might expect a profit margin of around 15% to 20%.
Business Strategy
One of the main selling points of a Black Rifle Coffee franchise is its strong business strategy. It's a newer company with less brand recognition than the more established competitors, but BRCC remains dialed into a growth mindset.
Black Rifle Coffee Company uses multiple sales avenues and platforms to get its product to consumers without passing on additional costs. The company survived and even thrived during the pandemic thanks to a strong online and subscription base.
Additionally, Black Rifle Coffee Company unveiled a loyalty program with notable perks. Earn points by completing various tasks, including purchases, to earn points. Trade the points for vouchers to use on future Black Rifle coffee purchases.
Loyal Customer Base
Black Rifle Coffee Company caters to the conservative demographic in America, translating to a strong following. The company's customer base remains invested in its success. As of January 2022, Black Rifle Coffee Company boasted 285,000 subscription customers.
Investors and Shareholders
The conservative values coupled with a commitment to veterans, active military, and first responders remain attractive to many investors. When your shareholders remain invested, and new ones arrive daily, it's easy to feel secure in your initial investment. In short, there's heavy capital in play, and the shareholders remain invested in company growth.
Drawbacks To Consider
That all sounds amazing, but no company is perfect. Black Rifle Coffee Company has a glaring drawback that could upend your franchise dreams if you aren't prepared. The conservative values, including the strong pro-gun themes, have triggered several controversies. As those controversies pop up, Black Rifle Coffee Company stocks fluctuate.
While the coffee brand has some celebrity followers, they aren't all widely popular. Some celebrity mentions have had the opposite effect an influencer should have on a brand. For example, former President Donald Trump and his son have endorsed the brand, leading to some backlash.
Additionally, the brand appeals to right-wing extremists that wear the merchandise and tout the brand on social media. Despite the company denouncing the extremists several times, it is a glaring turnoff to some consumers.
Investing in a Black Rifle Coffee franchise might be a riskier investment than it should be due to the conservative values. While they were meant to appeal to a broad and diverse audience, Black Rifle Coffee captured the attention of extremists. Those individuals occasionally disrupt the brand's growth and might not make it a viable business for some regions.
Conclusion: Should You Invest in a BRCC Franchise?
Starting a Black Rifle Coffee franchise might be a good idea for some people. It's a fast-growing coffee company with strong, diverse strategies and a solid financial projection with active, invested shareholders.
This veteran-owned coffee business has boasted steady growth over the past several years. It leverages multiple sales platforms to reach its customers.
Black Rifle Coffee Company also has a powerful message and social action. It supports Veterans and first responders with several initiatives through its nonprofit.
However, conservative values with a heavy emphasis on pro-gun rights tend to draw some controversy. The few dips in Black Rifle Coffee Company stock correlated to negative stories and merchandise misuse. Thankfully, the CEO remains proactive and swiftly reacts to negative media by denouncing extremist views and actions.
Do you have the capital, love coffee, want to support veterans, and embrace conservative values that are consistent with the company's views? If so, Black Rifle Coffee Company might be the franchise for you.